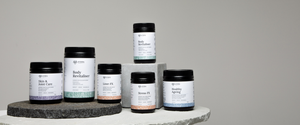 Feel Better
Look Better
Perform Better
Nature's Proven Pathway For Cellular Rejuvenation
Pure, nutritive ingredients, sourced from nature to create supplements that help ease the effects of ageing.
Fight Ageing
Resist ageing at a cellular level
Repair DNA damage
Combat oxidative stress
Support restful sleep
Buy Now
Revitalise Yourself
Improve energy levels
Support brain health
Control inflammation
Strengthen immune function
Buy Now
Liver Protection
Detoxify and protect the liver
Boost metabolism
Reduce indigestion & bloating
Reduce brain fog
Buy Now
Skin Repair
Reduce fine lines & wrinkles
Plump & hydrate skin
Strengthen weak nails
Reduce joint pain, swelling & stiffness
Buy Now
What Our Customers Are Saying
Body Revitaliser Essentials

★★★★★

Amazing stuff!

I bought these at the recommendation of a friend who said she has endless energy since taking the product. I have to say I agree. The first day I was sitting at my desk and couldn't figure out why I was so restless! When the day was over I had plenty of energy to exercise which was great!

I've found my sleep quality is a lot better and people have commented that I'm looking better.

All round it's a great product and I ordered my second well before my first has run out so I don't miss a day!

Jamie

06/10/2021
Body Revitaliser Essentials

★★★★★

Genuinely Makes a Difference

I've been using the Hydra Longevity Body Revitaliser for around 6 weeks now and can certainly feel the difference it makes to my general wellbeing and energy.

I've tried pretty much all the various 'superfood' powders available here in Australia and several from the US and this is the only one that made a positive difference.

I look forward to having it each morning mixed with the Healthy Ageing Essentials.

Tim N.

22/06/2021
Liver-FX

★★★★★

Magic powder and pill

Fatigue, sleepless nights and brain fog has been fixed in just 2 weeks.....

Thanks to Hydra Longevity products.

Mel V.

08/04/2021
Collagen-HA

★★★★★

Remarkable difference within 2 weeks

I'm pain free for the first time in 2 years after sustaining an injury to my right hip after a serious fall.

Highly recommend Hydra Longevity Collagen-HA.

Elaine

19/01/2022
Collagen-HA

★★★★★

Couldn't recommend this enough

I recently had major surgery, and started taking this as part of my recovery. My nurse is astounded at how well my scars have healed in 6 weeks and honestly, so am I.

Talei Kendall

24/06/2021
Collagen-HA

★★★★★

Derma Glow - Simply the BEST!

I have been working on repairing my gut inflammation and also doing new protocols for my entire body that is to do with the Fascia system and knew I needed extra collagen while producing new collagen with fasciablasting. This product is absolutely fantastic and has helped my gut and incorporated with fasciablasting my skin is softer than ever! And incorporated with my gut repair protocols my body is truly thanking me, and I am thanking you, Hydra Longevity! Top product!

Lisa Martlew

14/10/2021
Testimonials are from verified buyers.
Body & Mind Nourishment
Nourish your body with nutrigenomic blends delivering pure, nutrient-dense ingredients selected for their anti-ageing properties.
Every ingredient has earned its place through science and traditional learnings, and clinical testing for efficacy.
Learn More
Science + Nature = Confidence
Product Development By Practitioners
Optimised Ingredient Bio-Availability
Designed To Deliver Therapeutic Doses
Ingredients Backed By Research
Pure, Natural & Lab-Verified Ingredients
Manufactured To Australian Gmp Standards
Manuel Scheu - Fitness Trainer
Keilamarita Pouri-Lane - Professional Athlete
Our healthy living partners love our products.
The Hydra Zone Blog
Discover the world of natural health in the Hydra Zone! Learn more about ageing, healthy living, and advice & tips to help you live your best life.
Join The Healthy People
Follow us on Instagram @hydralongevity